Computerized Cutters, Inc. manufactured the first Accu-Cut router table in 1994, founding the company on the principle that cutting-edge technology, combined with quality components, make the best tools in the marketplace. Accu-Cut routers are engineered to be trouble-free.  Our router tables are built upon precision welded steel frames that will not vibrate loose like some bolt together frame systems available on the market. They feature the highest quality motors and precision rail systems available to ensure accuracy and repeatability. With our economical Accu-Cut KR models, shops can grow their businesses with a dependable, accurate product made in the USA.  Our heavier duty Accu-Cut XP models have single piece steel welded frames that are machined as one solid part to ensure rails are straight and true with repeatability to within .001 inch.  With machines still running precision parts after 25 years, Accu-Cut machines provide your company with the best router around for many years to come.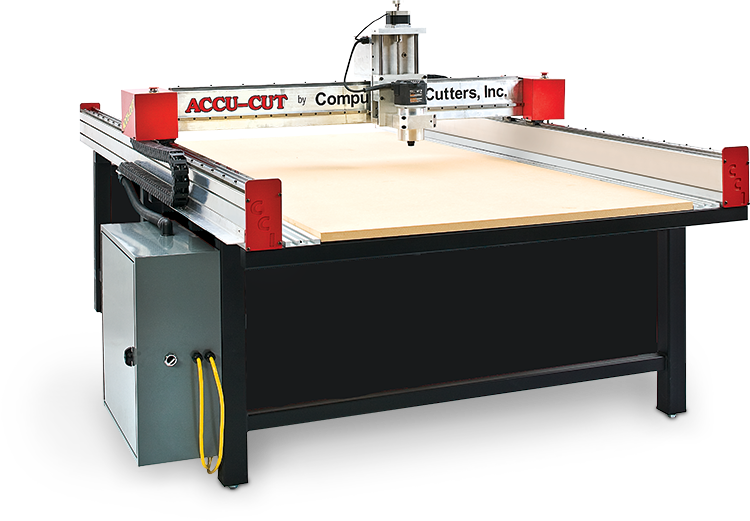 Surprisingly simple to operate computerized router table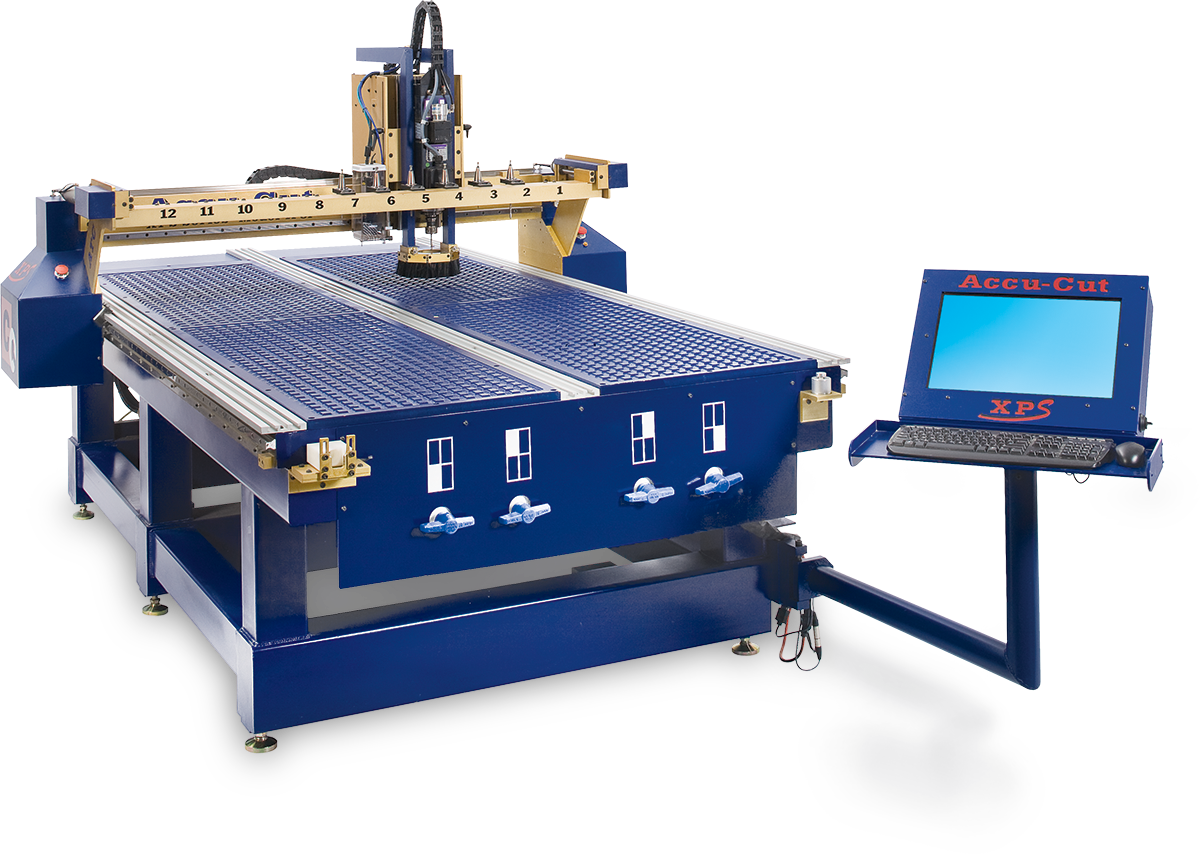 Speed up production, reduce waste, and improve quality and accuracy
Frequently Asked Questions (FAQs)
Our economical Accu-Cut KR router tables are built in two standard sizes: 4 ft x 8 ft with a 49" x 97" cutting area (Model 48) AND 5 ft x 10 ft with a 61" x 121" cutting area (Model 510).
Our heavy duty Accu-Cut XP/XPS router tables designed for 24/7 operation are built in four standard sizes: 4 ft x 8 ft, 5 ft x 10 ft, 6 ft x 10 ft, and 6 ft x 12 ft. If you need a custom size, call sales for more information.
Yes, we offer an Automatic Tool Changer as an option on all our routers.
The base model Accu-Cut KR ships with a 3.5 HP spindle. However, you can upgrade to a 5 HP or 7 HP spindle. The Accu-Cut XP/XPS ships with a 5 HP spindle. You can upgrade to a 7 HP or ATC spindle.
All Accu-Cut machines ship with a laptop, Accu-Cut software, training videos, a T-slot system to hold down material, a router cutting head, and our industry leading 3-year warranty plus lifetime 800 technical phone support to the original owner. On-site installation support can be purchased. Accu-Cut XP routers also include CNC software, a clamp set, starter bit kit, automatic tool depth setter, handheld pendant controller, and a vacuum brush head.
Accu-Cut routers have gantry clearances of 6 inches, and can cut materials as thick as two inches.
We offer Cut2D Pro with the Accu-Cut KR router. Cut2D is a powerful and intuitive software solution for cutting parts on a CNC Router. Call CCI for pricing.
The purchase of your Accu-Cut XP/XPS includes VCarve Pro, a powerful but intuitive software solution for creating and cutting parts on a CNC Router.
Accu-Cut routers are also compatible with Aspire (3D) and EnRoute.
For the Best Fabrication Solutions at a Price You Can Afford