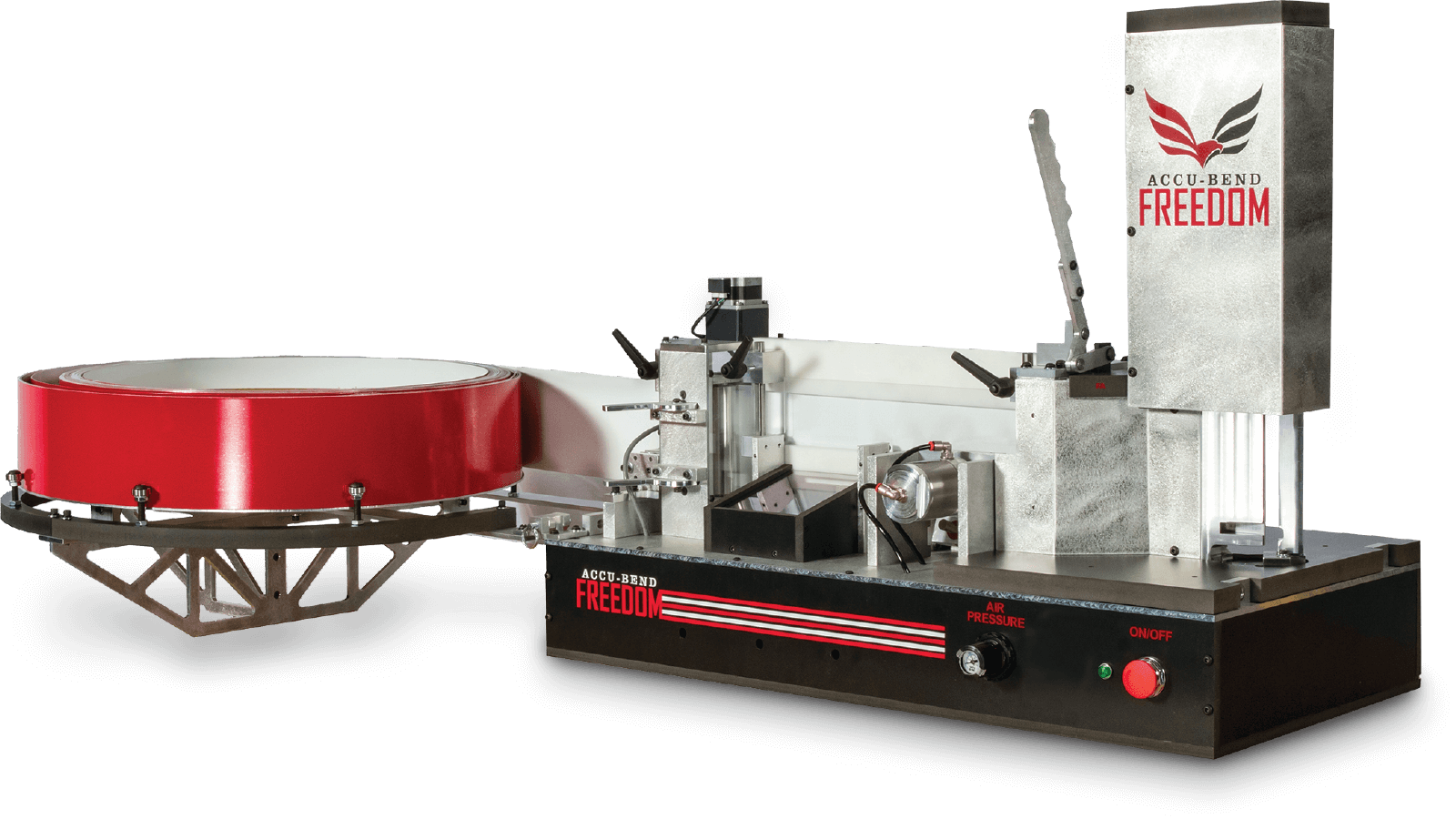 to notch, flange & bend channel letters
Reduce fabrication time by as much as
Designed, fabricated, fully-assembled and tested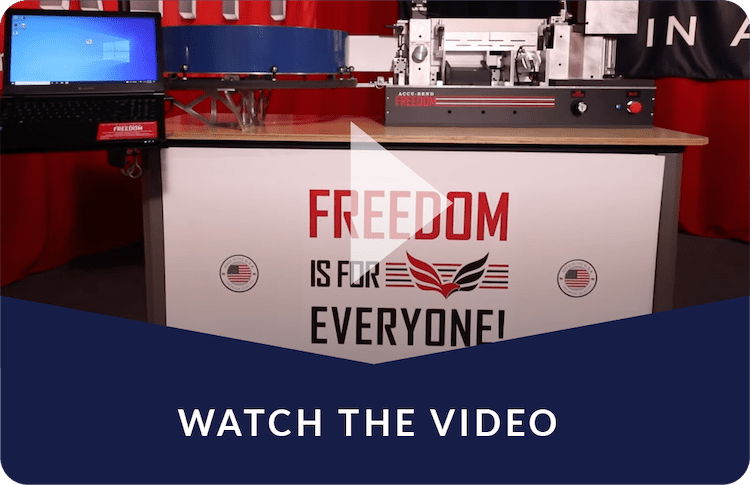 This revolutionary TABLE-TOP Accu-Bend machine can do what full-size bending machines can, but in a compact, portable size at an affordable price. Use the channel bender on a workbench, rolling cart, or shop counter.
FREEDOM IS FOR EVERYONE!
Whether you purchase letters from a wholesaler, produce channel letters now and want to add production capacity, or are just entering the channel letter business, this space-saving Accu-Bend FREEDOM bending machine is for you!
Call us about financing options.
TRIM CAP CAPABILITY. With the Trim Cap Option, you can use your Accu-Bend Freedom to form trim cap material to any contour.
MORE PROFIT PER LETTER. No need to buy wholesale. No more bending letters by hand.
SAVE SHOP SPACE. Space-saving table-top model. For use on a workbench, rolling cart, or shop counter.
SIMPLE TO USE. No special skills are required. Set up and run letters the day it arrives.
QUICK TURN-AROUND. Produce channel letters quickly. Control your production.
PRECISION. Consistent and repeatable letters day-in and day-out.
ADD PRODUCTION CAPABILITY. Already have a channel letter bender? Add the FREEDOM for increased production.
EFFICIENT. Runs on 110V AC power and shop air. Just plug into a standard outlet and go.
MADE IN THE U.S.A. Computerized Cutters has the industry's leading 3-year warranty because we believe and take pride in our quality and workmanship. Our technicians take pride in providing every one of our customers with the best service available.
Need to notch and bend both trim cap and aluminum coil?
Ask our team about the Trim Cap Option for the Accu-Bend Freedom. The addition of the Trim Cap option to your Freedom machine will allow you to notch and bend both both trim cap and aluminum coil on the same machine. Changing from one material to the other is quick and easy and can be done in seconds!
Frequently Asked Questions (FAQs)
It depends on the size of the letter and how complicated the shape is. Generally, a letter that takes 45 minutes to an hour to bend by hand can be run on the Accu-Bend machines in about 4 to 5 minutes.
The widest material that can be run on an Accu-Bend machine is 8 inches.  The largest shape that has been run on an Accu-Bend is 20 feet.
The smallest width of coil material that can be run on an Accu-Bend machine is 1 inch.  The smallest shape that has been run on an Accu-Bend is 3 inches tall.
Sign companies have been making trimless channel letters using the Accu-Bend machines for over 25 years.
No daily maintenance is required on our machines. Once in a while, you will need to clean the encoder wheel which takes less than a minute. Our customers call our Accu-Bend machines the "workhorse" because they just keep running.
Install and setup entail the following steps:
Attaching the off-load table, coil table, and computer stand
Plugging in the computer and machine to standard 110v AC outlets
Connecting the compressed air (130 psi clean, dry, compressed air)
Most sign companies are up and running in only a couple of hours. Most training is completed the same day by Zoom, computer sharing, video instructions or via phone support.
Included In Your Purchase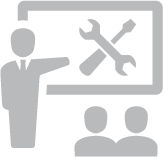 Installation + Training
Video installation and training provided by the same factory trained technicians that built your machine.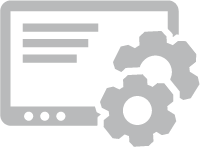 Computer System + Software
Complete computer system with a laptop computer loaded and tested with the Accu-Bend FREEDOM software.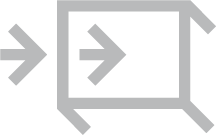 Feed & Off-Load
Tables + Air
Coil material feeds table with precision bearing supports and off-load table for finished returns. Air quick disconnect with gauge and water filter. 120V plug.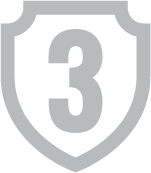 3-Year Warranty
+ Support
Toll-free customer service and support PLUS the industry's only three-year warranty.
Swipe to view additional machines.
Accu-Bend Channel Letter Benders
FEATURES

Model 26

ACE+

ACE

Freedom

Material Thickness

.032 - .063

.032 - .063

.032 - .040

.032 - .040

Material Height

1" - 6"

2" - 6"

2" - 6"

3.5" - 5.3"

Coil Size / Weight

29.5 diameter / 300 lbs

29.5 diameter / 150 lbs

25.5 diameter / 100 lbs

25.5 diameter / 75 lbs

Computer Included

YES

YES

YES

YES

Small Arm & Scribe

YES

NO

NO

NO

Footprint

53" x 130"

46" x 110"

46" x 110"

26" x 62"

Power Requirement

Dedicated 120V

Dedicated 120V

Dedicated 120V

Dedicated 120V

Air Requirement

110 - 130 PSI (7.6 to 9 bar)

110 - 130 PSI (7.6 to 9 bar)

110 - 130 PSI (7.6 to 9 bar)

110 - 130 PSI (7.6 to 9 bar)

Warranty

3 Year

3 Year

3 Year

3 Year

Learn More
Learn More
Learn More
Learn More
Download the Accu-Bend Freedom Brochure

"We've already started making letters. We received our machine Friday and made 15 to 18 of them Saturday morning. Wonderful machine and so easy to use!!!" 
Mike Lindsey, Mike Lindsey Sign Designs & Fabricators - Lexington, IN
"We bought our Freedom in January 2020 and have really enjoyed the quality of product it puts out and the time savings it delivers.
We are currently building 30-40 letters a week, and considering it is tough to get employees right now – I never could complete this much work without the Freedom.
This Freedom paid for itself in less than a year and many times over.  It's a great machine.
I highly recommend it."
John Sparks, Sparks Signs - Mobile, AL
"We've had our Freedom for over 18 months and we couldn't be happier. Lately we've been running it 8 hours a day. We love it. It has really helped us grow our business with the small staff we have. It won't be long before I need to move up to an ACE or Model 26 at the rate we're growing."
Robert Alexander, Greyhawk Signs - Littleton, CO
"I already have one (FREEDOM) and love the machine, great job producing this money-making machine!"
Ray Nasoni, Signarama -Liverpool, NY
"We have made one set of channel letters so far with the FREEDOM with two more channel letter projects over the next 2 weeks. The first, 30" letters mounted on a raceway about 60' up, and the second is a pair of trimless custom printed at a new water adventure park!"
Jon Arguello, PMB Specialties -Kissimmee, FL
"(FREEDOM) Running perfectly. Just had to reboot the computer and machine. Producing smooth letters with ease!"
Derek Kennedy, KFI, Inc. - Longview, TX
"Machine (FREEDOM) works great! However, I just don't know what to do with all that free time."
Ken Chau, Printstudio.ca - London, Ontario
"The FREEDOM is working great, I'm happy that you are based here in the USA and things have been working out real well."
George Zienowicz, Zienowicz Signs - Trenton, NJ
"The Accu-Bend FREEDOM is working great!!! I just simply put it on top of a table and putting it to work. Man, I think I already made my $ back!!!  I am definitely happy to be the biggest ambassador for the FREEDOM. I am truly grateful that it exists and am very proud to have this in our repertoire."
Stanley, New Image Design Group - Hayward, CA
"The last job that I did with the FREEDOM was a 15 channel letter sign, plus one logo. From importing the Flexi file into Enroute, to cutting backs and faces, to bending, to trim cap... to install... to cashing in the check... all in the same day. AMAZING!!!!"
"I just bought one of these (Accu-Bend FREEDOM) and like it!"
Ken Jones, Ken Jones Signs - Ontario, Canada
For the Best Fabrication Solutions at a Price You Can Afford